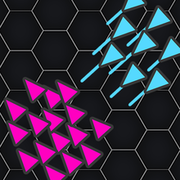 Description:
Shooters.io is an exciting multiplayer online shooting game where players can engage in intense battles against other players from around the world. In this game, you control a customizable character armed with a powerful weapon. Your objective is to eliminate as many opponents as possible and climb the ranks to become the top player.
Thrilling Gameplay
Shooters.io offers fast-paced and action-packed gameplay that keeps players on the edge of their seats. Enter the arena and face off against other skilled players in real-time battles. The gameplay mechanics are easy to grasp, allowing players of all skill levels to enjoy the game.
Customization Options
Unleash your creativity and customize your character to stand out from the crowd. Choose from a variety of skins, weapons, and accessories to create a unique look that represents your play style. Experiment with different combinations to find the perfect loadout for dominating the battlefield.
Power-Ups and Upgrades
As you play and progress, you'll have the opportunity to collect power-ups and upgrades. These enhancements can boost your firepower, increase your speed, or provide additional defensive measures. Strategically use these power-ups to gain an edge over your opponents and secure victory in battle.
Intense Multiplayer Battles
The game features a robust multiplayer mode, allowing you to compete against players from all over the world. Join or create teams to cooperate with other players, or test your skills in free-for-all matches. Communicate with your teammates using the in-game chat feature to devise winning strategies and outmaneuver your rivals.
Leaderboards and Rankings
Show off your shooting skills and make a name for yourself on the global leaderboards. Earn points for each victorious battle, climb the rankings, and strive to reach the prestigious top positions. Compete against the best players and prove that you have what it takes to be the ultimate shooter.
Immersive Visuals and Sound
Immerse yourself in the game's captivating visuals and thrilling sound effects. The vibrant graphics and detailed environments create an immersive playing experience that will keep you engaged for hours on end. The dynamic sounds of gunfire and explosions add an extra layer of intensity to the battles.
Accessible and Free-to-Play
Shooters.io is accessible to everyone and completely free to play. Simply visit the website, create an account, and start your exhilarating shooting adventure. Whether you're a casual player or a competitive gamer, Shooters.io offers a challenging and entertaining experience that will keep you coming back for more.
Engage in intense multiplayer battles against players worldwide
Customize your character with various skins, weapons, and accessories
Collect power-ups and upgrades to gain an advantage in battle
Compete on global leaderboards to showcase your shooting skills
Immerse yourself in immersive visuals and thrilling sound effects
Accessible and free-to-play for everyone